The expressions of international support multiply for the declaration "Free Otegi, Free them all!"
The international Delegations who met this past weekend in the Ghjurnate Internaziunale of Corti signed the declaration Free Otegi and the Democratic Front for the Liberation of Palestine painted on the wall of shame the proclamation "Free Otegi".
Representatives of Azawad, Catalonia, Scotland, Kurdistan, Sardinia and the Basque Country together with the deputy Jean Guy Talamoni of Corsica Libera expressed their support for the declaration in the International Conferences which take place every year at the University of Corti.
The Ghjurnate Internaziunale, an historical point of encounter for the Corsican independence movement, have included this year numerous talks and round-tables about the international political situation, the situation of political prisoners, peace in Europe (including the Basque Country and the declaration), the perspectives for the creation of new states in Europe and the analysis of the strategy proposed by Corsica Libera for the future.
Also, the historical Corsican musical group L'Arcusgi expressed their support for the campaign and for the freedom of all Basque and Corsican prisoners before taking part in a cultural event that put an end to the conferences.
For their part members of the DFLP painted "Free Otegi" on their wall of shame as a first action of the campaign in Palestinian land.
This past August 5th an event took place with the title "Free Otegi, Free them all!" at the Féile an Phobail festival of Belfast, at which they presented the adhesions of US Political Prisoners Mumia Abu-Jamal and Leonard Peltier.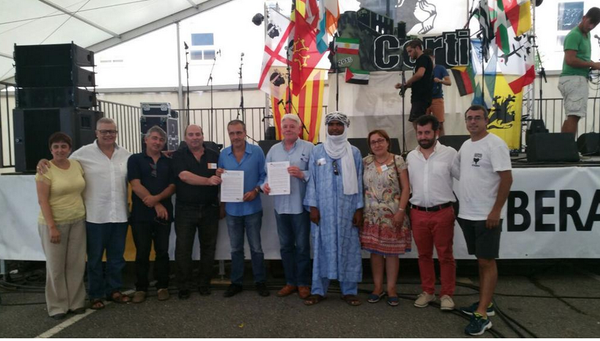 Note: In the photo appear, among others, Moussa ag Assarid (MNLA, Azawad), Orkan Yilmaz (National Kurdish Congress) and Mehmet Yuksel (representative of the PDP in the USA), Lloyd Quinan (former deputy of the SNP), Gabino Sale (IRS, Sardinia), Maite Ubiria (Sortu) and Jean Guy Talamoni of Corsica Libera.